Written by Jaymi Naciri on Wednesday, 18 November 2015 3:16 pm
Black Friday didn't get its name because people all dress in dark clothes to shop in an effort to camouflage the six-pound thanksgiving weight gain. (Although, that does make sense.) It's so named because it's traditionally the first day of the year when many retailers first see a profit.
But if there's anyone more excited about Black Friday than retailers, it just might be shoppers. After all, despite some retailers opting to stay closed on Thanksgiving Day, many others are offering blowout deals on that day and opening earlier than ever.
So if you're heading out to drop some cash, here are a few tips to help you maximize the experience and get the best bang for your buck.
1. Keep your eyes - and your wallets open
Because Black Friday has morphed into a several-week shopping season, you have to be ready to pounce when you see a deal. And that can be anytime. Last year, I lined up at Walmart for a 40-inch flat screen on sale for just a tad over $100 the Friday before Thanksgiving (it was smaller than I really wanted, and it was advertised as an off brand, but who cares!). The Black Friday sites had publicized the sale the day before, but, apparently, the stock folks and sales people at Walmart weren't told. When the line far outnumbered the available product, they had to improvise; I ended up with a 48-inch LG for the same price. Score.

Business Insider
2. Be prepared
"Only rookies head for Black Friday shopping without having done their homework," said Consumer Reports.
True. And that research is easier to do than you think. The trick is to find a go-to site and then visit it regularly. There's no need today to be spending time jumping from website to website checking for the best deals. A bunch of sites aggregate the deals and update them constantly. Come to think of it, these guys might even be more excited than a lot of the Black Friday shoppers.
We like BFads because not only do they pull together all the Black Friday deals, but they also list some of the best deals from each store, which is immensely helpful for those who don't want to inspect every inch of every ad. We also love their ticker along the right margin, which they're constantly updating with the best and newest deals across all sales. Here are a few of our favorite deals we found on their site and others: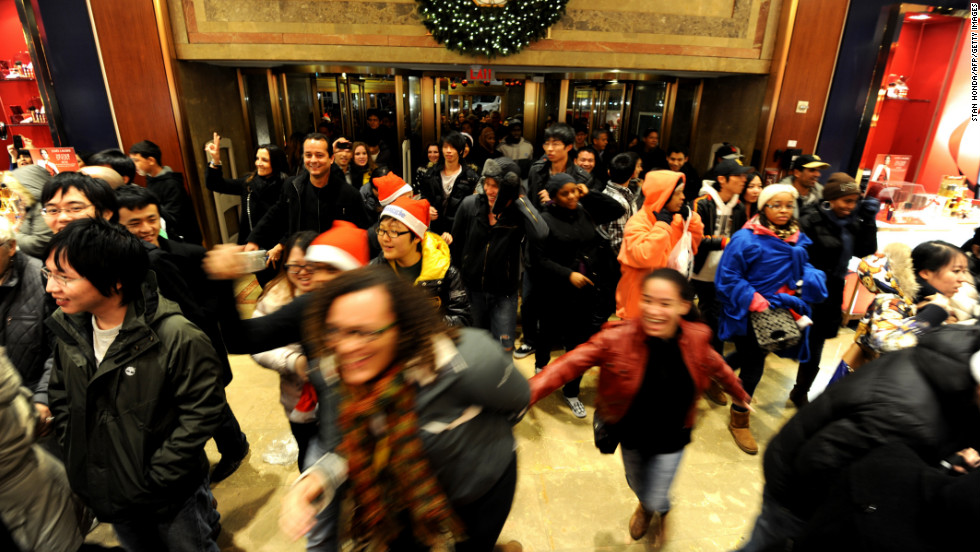 CNN
3. Connect with your favorite stores
Having a go-to site doesn't mean ignoring the stores you love. Downloading their apps, "liking" them on Facebook, following them on Twitter, and joining their email lists can give you a leg up on special sales and deals that may only be offered to "fans."
"Target has their Cartwheel app, which offers exclusive deals year-round, so it's not a huge leap to think they would leverage that on Black Friday," said The Courier-Tribune. "In fact, Target's 2015 toy book advertises two exclusive offers on its apps: a 50 percent discount on a different toy each day through Cartwheel and 10 percent off all items selected through the Target Kids' Wish List.
And stores like Target and Walmart release their Black Friday store maps on their apps as well - these are necessary if you want to know where to go to find Doorbusters, which are typically nowhere near where you'd think they'd be.
4. Check store policies in advance
"It's always good to know a store's price-match and return policies," said Consumer Reports. "We expect more retailers to price-match specific online and in-store deals this year. Target recently expanded its policy, and both Best Buy and Walmart will price-match to varying degrees. Other stores, however, might suspend their price-match guarantees during the Black Friday weekend, so read the fine print. When you check the return and exchange policies for Black Friday sales, make sure the store won't charge a restocking fee for any item you bring back."
Fine print is also important for "limited-quantity" items like at Best Buy or Walmart. Walmart's policy for its limited quantity Doorbusters is that if you're in line during the one-hour sale period for that item, you are guaranteed to get it. If they sell out before you get to the front of the line, you'll get a rain check that guarantees the product will be available to you no later than December 24.

ABC News
5. Look for extra discounts
"One of the biggest mistakes a shopper can make is assuming that the ad price is the lowest price," said The Courier-Tribune. "My favorite example for this is Kohl's Black Friday sale, where just about everything in the ad is also eligible for further discounts with promo codes."
Stores like Kohl's also offer Kohl's Cash - as much as $15 for every $50 spent - that can be used at another time. Old Navy and Toys 'R Us have also been known to offer a similar deal.
"To make sure you're not missing any coupons from your favorite retailer, subscribe to its email list and get coupons and offers delivered to your inbox," they said. "Sites like CouponSherpa, RetailMeNot and Coupons.com also round up Black Friday coupons and coupon codes that'll help you save more."
6. Do your research
Prince isn't always the only important factor. If you're a super techie or if the highest quality and newest versions of electronics are important to you, the bargain basement HDTVs or blowout laptops probably won't interest you anyway. For the average person, a little research might be needed to make sure you're getting a deal.
"A low price on a lousy product is no bargain," said Consumer Reports. "Check websites where professionals evaluate products, such as Consumer Reports, Steves-Digicams.com (for cameras), PCMag.com (computers), best/worst toy lists, etc. Check the user reviews posted after most product descriptions at Amazon.com, BestBuy.com, Walmart.com, and other retailers.
7. Stay in your jammies
If you're the type that isn't about to get out of bed at the crack of dawn to save a few bucks, you'll be happy to know that this year you might not have to. Most of this year's Black Friday specials look like they'll be available online.
"Last year, our research found that 70% of Black Friday doorbusters were available, at least briefly, at the store's web sites," said Dan de Grandpre, CEO of DealNews.com on Forbes. "So, consider ditching your trip to the store to shop online instead."