HOW TO GET A CHIC KITCHEN WITHOUT GOING GRAY
Gray. It's modern, it's chic, and it's EVERYWHERE. I mean, have you watched a design show lately? It seems like every kitchen has gray counters, gray cabinets, or both.
And it's not just happening on TV (or in the kitchen, for that matter, but that's for another time and another post). Seriously, go peek in on your neighbor who is in the middle of a kitchen reno. Gray cabinets with white quartz counters? White cabinets with gray quartz counters? Yup, we thought so.
That's the problem with a trend. When everyone climbs onboard, everything starts to look the same. So what can you do if you don't want your kitchen to look like every other kitchen out there but you still want it to be updated and stylish? Here are a few options.
Natural wood
If the idea of natural wood cabinets makes you think of a house in the sticks, check out this modern option. Keeping the lines simple and balancing out the space with modern finishes creates a kitchen that is warm, inviting, and sleek at the same time.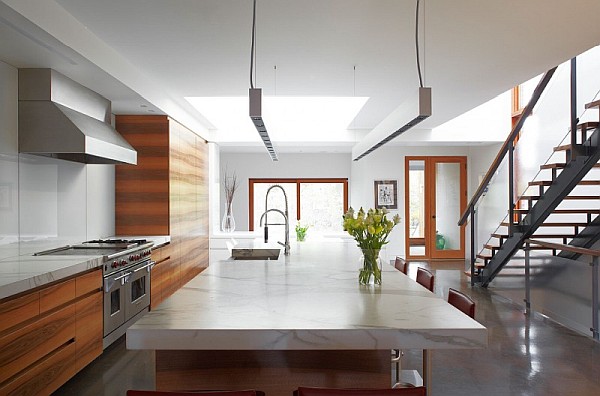 Decoist
Black
For kitchen drama, nothing brings it like black. Go hand-scraped for a French Country look that would make HGTV designer/reno stars Chip & Joanna Gaines proud, or go glossy for a glam look and a sophisticated space.
"The key to having black kitchen cabinets as your color choice is in how you blend it with the countertops, floors, walls and lighting to create a bold and unusual statement instead of a dark and depressing dungeon-like tomb," said HGTV.

ELBATIK
Navy
Slightly less dramatic than black but still statement-making, navy looks great on cabinetry - especially with the right contrast of lighter elements. Natural light is an important component; the light coming from two sides and the glass-fronted cabinets keep this room bright.

Arent & Pyke
All white
While this look won't necessarily set you apart - white kitchens have been a top trend for several years - it's classic, fresh, and will still be in style when gray has gone the way of beige. Be sure to add punches of color with accessories or layer in texture and architectural detail to keep the space from feeling too clinical.

décor pad
Graphic and custom
Personalizing a space is part of the joy of redoing your kitchen. You could head to Home Depot and sift through their backsplash options, but being limited to what they have in stock just might not be good enough. What to do? Try a custom backsplash instead.
"Imagine creating a custom backsplash in under 60 seconds," said House Beautiful. "With Fireclay Tile's online Color-It! tool, select a pattern and palette from more than 100 options and watch as your digital tile fills with vibrant color. Once you order, your design will be delivered within six weeks."

House Beautiful
Streamlined
Integrated appliances are making a resurgence among high-end homes, while appliances are taking on a more streamlined look to provide great function and sleek lines without taking attention away from the design lines of the kitchen. But a growing trend takes that idea a step further.
"It is not uncommon to see fridges, freezers, and dishwashers covered with cabinetry panels to camouflage them,"said House Beautiful. "In the 'Hidden Kitchen,' not only are the large appliances concealed but also the microwave, stove top, oven, everyday kitchen appliances, like the coffee maker and toaster, and other kitchen accoutrement, like the knife block. The designers cleverly hid them behind bright white panel doors with decorative molding to emulate