DECORATING FOR FALL: THE CHANGES YOU WANT TO MAKE NOW
Fall is here, and if you can't wait to break out your sweaters, boots, and scarves…well, neither can we. When it comes to decorating, there are numerous quick fixes you can do to bring some fall flavor into your home - without turning your entire house into a pumpkin patch. But if that's your thing, hey, go for it. Pumpkins for everyone!
If you love fall décor and autumn colors as much as we do, you might just want to keep your fall decor all year long! Get some inspiration below.
Hang a wreath
Not only is it welcoming, but it's also a great opportunity to do a family craft if you don't want one that's store bought. House Beautiful has some great wreath ideas here.
Change your pillows
A pillow swap is the easiest change you can make from season to season, and one that takes mere seconds for an updated look. This Sarah Richardson-designed living room blends a more traditional autumn color in the pumpkin-hued pillow with some unexpected choices like the pink floral and burgundy velvet for a distinctive look that can take you all through the year.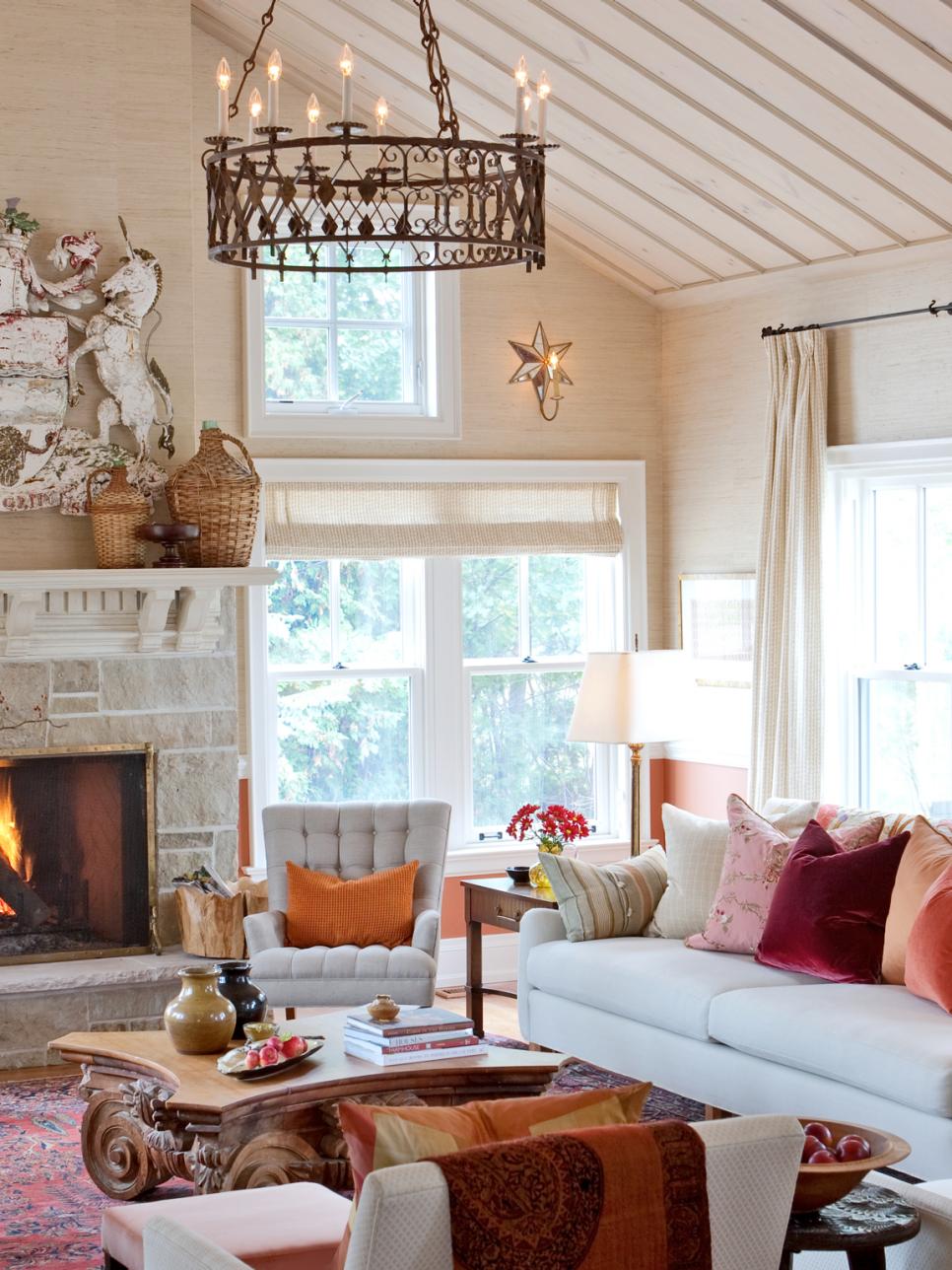 HGTV
It might not be cold weather time yet, but bringing in some more substantial textures will get you feeling cozy. Start with a ruddy throw draped over the couch, and another in the master bedroom. "Getting out of bed is already a struggle, but a plush blanket and matching pillows will make you want to hit the snooze button just one more time," said House Beautiful.

House Beautiful
Create a centerpiece
A bunch of mini pumpkins, pinecones, or nuts in the shell piled into a hurricane or under a glass cloche make for a festive, elegant presentation, even if you have no plans for company. If you're planning a party during the fall, check out these centerpiece ideas from Elle Décor.

Linda Holt Interiors
Address the windows
The sheer, gauzy, and/or lightweight curtains that filtered the light so beautifully throughout the spring and summer might need to take a hiatus until next year' warm-weather seasons. Heavier fabrics look great in the fall and winter, and can also help insulate the house against harsh conditions.
Warm up your tootsies
At the first sign of cooler weather, pack away your bath mats in favor of something luxe and cozy. A fuzzy or furry mat will keep your feet warm and bring in a touch of elegance.

Pinterest
Redo your mantle
Box up your beach-themed vignette and bring on the leaves and pinecones. Is it a tad traditional to showcase autumn's bounty of nature? Sure. But that does little to diminish its charm. Huffington Post has 26 fall mantle ideas here.
Deck out your front porch
Pumpkins and decorative gourds are a given for the front of the house. We buy as many as will fit in the car! But fall is also a great time to take a look at the exterior of your home and see where you might be able to freshen it up. Some turquoise paint on your front door should do the trick!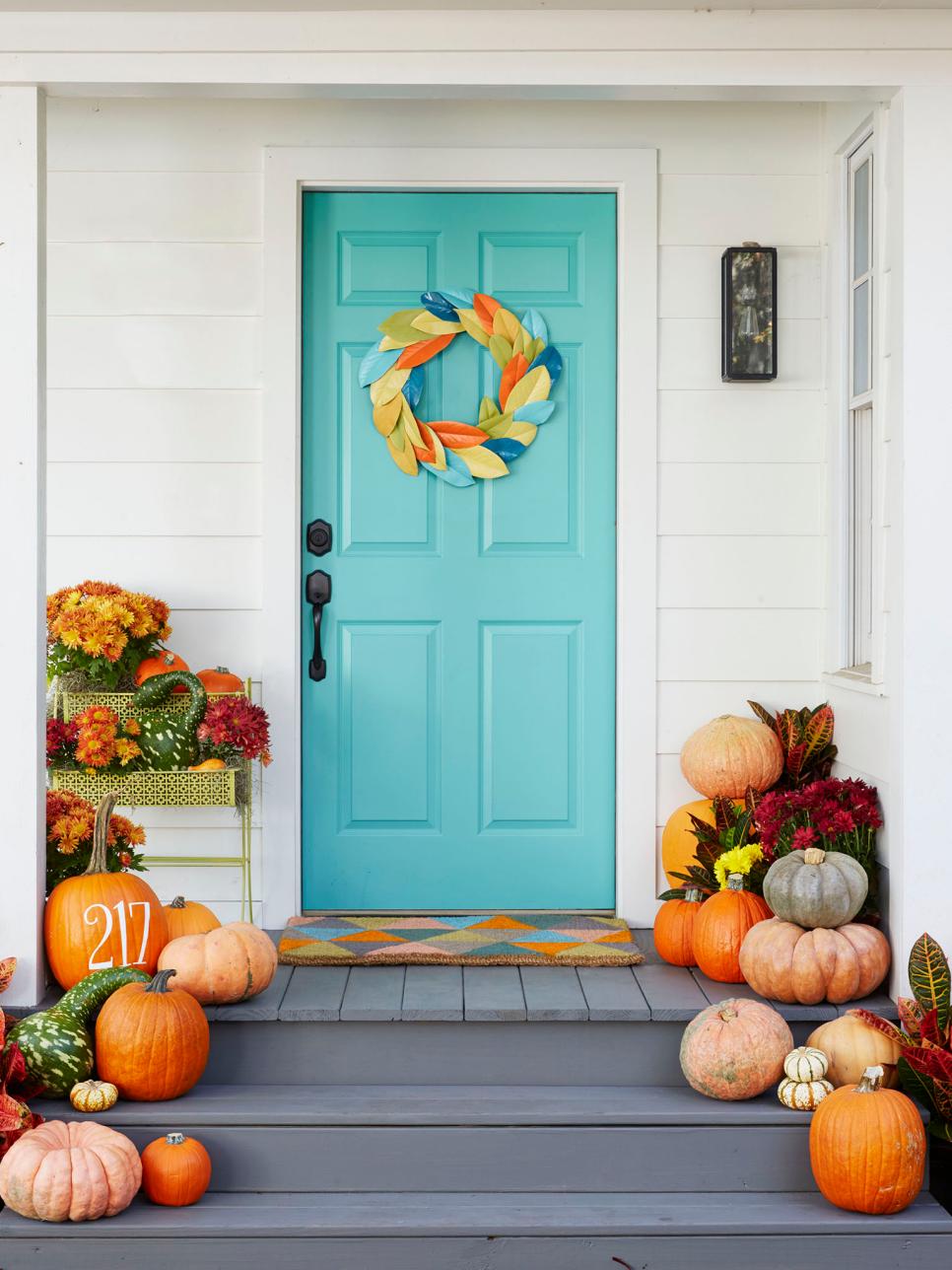 HGTV